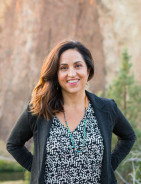 Katie Post
Leadership Development
Organic. Creative. Intuitive. Bold.
Bend, OR
Appointment Types:
Expertise:
Branding and Company Culture
Business Coaching
Business Soft Skills
Business Vision Strategy
Communication/EQ Skills
Confident Communication
Business Vision Strategy
Midlife Career Change/Exploration
Communication/EQ Skills
Confidence and Self-esteem
Confident Communication
Developmental & Behavioral Coaching
Divorce Recovery
End-of-Life Coaching
Packages Offered:
Ideal Clients:
Career Changers
Community Change Makers
Executives
Human Resources
Individual Contributors
Mid Level Managers
Methodologies and Tools used:
Commitments of Conscious Leadership
Co-Active and Mindfulness strategies employed to achieve clarity in purpose and direction in career
Career and Leadership Assessments
Leadership Circle Profile 360-assessment employed to create leadership development plans
Katie's Story
Katie is dedicated to calling out greatness in others. As a leadership coach and facilitator, she relishes diving in with individuals and teams who are curious and courageous, daring to set a course for change with a compelling vision and open heart. Her style is rooted in a vibrant curiosity, an upbeat energy, and a fierce commitment to transformation. Committed to living a life that honors her values of meaningful connection and creative expression, she invites her clients to live in alignment to core values with a purpose that makes the heart sing.
Katie is a certified co-active coach and has lived and studied leadership from the start of her career in education through various roles in business to her current tenure at the helm of her own business as a leadership coach and training facilitator specializing in developing leaders to bring the whole, authentic selves forth.
In her work she support both individuals and teams to tune inward in order to step more fully outward by leading with clear intentionality, accountability and creativity. She brings an organic, open and playful approach to her coaching. She offers programs designed to support new managers learning to lead, executive leadership and outside sales teams.
Katie believes change begins within. It is your internal world that creates your external reality. A critical path to understanding who you are and what you want is to clarify and articulate what it is you value most, what's your purpose and what is the compelling vision that is calling you forth.
The coaching will be a dynamic combination of exploration and discovery paired with articulated commitments and accountability to make the desired change real.
Reach out via email at katie@coaching4good.com.
What clients are saying about Katie…
I think every single session for the team has been instrumental in where we are at today. Each day challenged each of us to grown, individually and as a team. This work together with you has been everything that I envisioned it to be and MORE!! I love it when a vision comes together. For me one of my biggest challenges is getting or seeing results right away. The truth of the matter is our journey in life takes TIME! There are twists, turns and bumps in the road! But if we stay focused on our values and breathe and really put positive energy into our "WHY" it will all work out. I have really learned so much this year about my journey. I am seeing more a-ha moments this year that I didn't identify before. Much of that is due to our time together in person and through our coaching on the phone! You have been instrumental in my growth. The team is thriving. I am deeply grateful to you.
— Michelle P.
Katie is an amazing coach with a very unique gift that truly shined throughout the entire coaching process. Trust is key in any relationship, but it was specifically critical to me in our coaching relationship because I needed to feel comfortable enough to share my life experiences, challenges and dreams in their rawest form, without feeling judged. Katie is so authentic and open-minded. It was easy for us to establish a relationship of trust and authenticity at our very first session, where she clearly defined her role as the coach, and demonstrated a genuine interest in my own expectations of our relationship. I found that the most powerful part of the coaching process was drawing energy and strength from the proudest and happiest moments of my life, to overcome today's challenges, and silence the inner saboteur that tells me I'm inadequate. Katie's creativity is not only contagious, it's unmatched. She is a divergent thinker and has helped me to discover the universe of possibilities within my reach. Katie has helped me to re-purpose my life with renewed vigor and credence in my ability to break through the glass ceilings I've lived under for so long. She is an absolute gem and I highly recommend her for personal and leadership development coaching.
— Brenda A.
There's a difference between carrying a room and holding a space. Katie does both. She ensures there is opportunity for all to be heard and oh so lightly encourages not only the threads of true, authentic connection between us but the sparks that ignite wild ideas and crazy dreams.
— Liz P.
Katie's powerful group coaching session unearthed some unexplored contradictions in my life that I've been tolerating for too long. Exploring those contradictions led me to a deeper understanding of the drivers in my life, and ultimately to re-crafting my life statement into one more aligned with my values and passions.
— Allison H.
Katie will set your world on fire. Her enigmatic spirit radiates every conversation, and as a coach she will champion you like you never knew you needed. Work with her if you're ready to stop making excuses, and show up as your absolute most powerful self.
— Svet S.