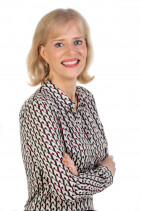 Francesca Smith
Leadership, Communication, Public Speaking, Global Business
Positive, Candid, Kind, Goal-Oriented
Brazil
Appointment Types:
Expertise:
Business Coaching
Business Soft Skills
Business Vision Strategy
Communication/EQ Skills
Confident Communication
Customized Workshops for Your Org
Business Coaching
Business Vision Strategy
Midlife Career Change/Exploration
Communication/EQ Skills
Confidence and Self-esteem
Confident Communication
Developmental & Behavioral Coaching
Divorce Recovery
Expat Planning & Transitioning
Credentials:
Professional Certified Coach (PCC), Internatonal Coach Federation
Graduate of Advanced Corporate CoachU, USA
Graduate of Core Essentials, CoachU, USA
Board Member, International Coaching Federation, RS Brazil Chapter
Fluent Portuguese speaker
Certified Leadership Circle Practitioner
Packages Offered:
Ideal Clients:
Career Changers
Executives
Human Resources
Individual Contributors
Mid Level Managers
Mid-Career Professionals
Methodologies and Tools used:
International Coaching Federation Competencies
Leadership competencies and behavior
Positive Psychology
Strengths-based
Emotional Intelligence
Public speaking and communication skills
Individual and Collective Leadership Assessments
Workshops:
Emotional Intelligence 2.0
High-Performance Communication
Communication Styles and Team Building
Giving and Receiving Feedback
Presentation skills
Storytelling
Leadership Circle Profile
The Vulnerable Leader
Francesca's Story
I've spent the last twenty years working closely with entrepreneurs, managers, and leaders. I understand the thrill and challenge of starting a new venture, building and leading a team, and doing business in a global context.
The most gratifying part of the coaching process is seeing the people I work with develop by learning more effective communication and leadership skills, creating a better work-life balance, or successfully making an important career or life transition.
I see coaching as a catalyst for development through deep, focused reflection. My role is to challenge, support, motivate, question and strategize in a partnership that accelerates progress and increases success. It would be my honor to work with you.
What clients are saying about Francesca…
I feel that I have progressed in these past 6 months much more than I would by myself. It's a way to push ourselves (having personal weekly commitments) as well as an opportunity to stop to think about what's going on inside/outside, who we are, what we want and why. I feel more confident, which reflects in other aspects of my life. I'm very satisfied. Beatriz B
—
Coaching has helped me to organize ideas and actions as we discuss important issues during our sessions. It has also helped me think about new approaches to solving things; it is a chance to stop and think more wisely. I see coaching as a tool inside the whole personal development process. Lucas C
—
Francesca is an extremely inspiring coach. She coached me for several months and her coaching leads to significant insights. Francesca is sincere, empathetic and caring. I moved forward both in my professional and personal life. I like her straightforwardness. And yet: it is so much fun to work with her. I would recommend Fran highly as a coach. Katherine B
—
Francesca is sweet and strong, very attentive and skilled – I loved having her as a coach. She respected my time and my agenda. She helped me to follow my dream. She was professional and yet very close and friendly. Beta G Added June 7, 2019
—
Fran's support was crucial to help me in many challenging situations, leading me to discover potential I was unaware of, and making me a better professional and person. I strongly recommend Francesca as a coach; she was born for that. Leticia J
—