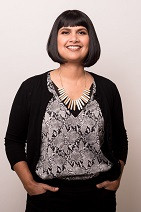 Sharanya Rao
Career & Leadership Coach
Creative, Intuitive, Compassionate, Transformative
Austin, TX
Appointment Types:
Expertise:
Confident Communication
Executive Coaching
Intercultural Understanding
Leadership Assessments
Leadership Development
Mindfulness
Communication/EQ Skills
Confidence and Self-esteem
Confident Communication
Mindfulness
Overcoming Fears
Credentials:
Master of Laws, Dispute Resolution, University of Missouri-Columbia
Bachelor of Laws, National University of Singapore
Professional Certified Coach, International Coaching Federation
Certified Co-Active Coach, Coaches Training Institute
Diversity & Inclusion Certificate, Cornell University
Organization and Relationship Systems Coaching, CRR Global
Packages Offered:
Ideal Clients:
Career Changers
Community Change Makers
Executives
Individual Contributors
Mid Level Managers
Mid-Career Professionals
Methodologies and Tools used:
Co-active and mindfulness strategies employed to achieve clarity of purpose and direction in career design and leadership effectiveness
Career & Leadership Assessments
EQ-i 2.0 & EQ360 Assessments to cultivate growth mindset and leadership skills
Leadership Circle Profile 360-Assessment employed to create leadership development plans
Organization and Relationship Systems Coaching
Sharanya's Story
Sharanya Rao is a creative powerhouse who awakens clarity and transformation in her clients. As a professional career and leadership coach, she is committed to bringing positive, sustaining transformation in individuals and organizations through Co-Active coaching, Mindfulness and cultural awareness. Sharanya loves learning about what makes people tick. She is committed to partnering with her clients on their journey of self-discovery, and is fully present with empathy and support. Using the Co-Active Coaching model, mindfulness techniques and creativity, she provides a nurturing space for clients to look deeply within themselves, asks the hard questions, and holds them accountable to their professional goals.
Coaching is Sharanya Rao's passion, purpose and calling. Her diverse background forms a tapestry of skills which serve her clients in unique ways. As a former lawyer, she brings skills in critical thinking, analysis and pragmatism to coaching. Having served in non-profit organizations for over 20 years, in various capacities from volunteer to Board member, she deeply cares for people in her community and pursues a service-oriented approach to work. As a creative artist, she kindles her clients' inner flame of creativity and imagination, and uses creative techniques for problem-solving. After living in 5 countries, she has cultural awareness and offers a cultural lens to her clients' perspectives.

Sharanya draws from her training and experiences, to coach people on career transitions and leadership effectiveness, both of which she personally experienced and found powerful strategies to navigate. Prior to coaching, Sharanya was a litigation lawyer in Singapore and she has a Masters of Law in Dispute Resolution. Sharanya is a certified coach with the International Coach Federation, and the Coaches Training Institute. She has a certificate in Diversity & Inclusion from Cornell University. She is also a certified consultant for the Leadership Circle Profile, the EQ-i 2.0 and EQ360 Assessments. She is a team coach trained in Organization and Relationship Systems Coaching (ORSC).
What clients are saying about Sharanya…
I highly recommend Sharanya if you need help with your career path. Sharanya worked with me to help me find my strengths and what career and business path was ideal for me. Sharanya is not only smart and knowledgeable, she is insightful, understanding and kind. I learned a lot during this process and only wish I had done this earlier in my career.
— David Kervin, Jr.
My work with Sharanya Rao has subtly transformed the whole way I feel about work. I was unsure about the next step in my career, but Sharanya's professionalism, support and curiosity helped develop my confidence and clarity, giving me a real sense of direction. Sharanya gave me both the empathetic collaboration and challenging feedback that I needed to grow. I understand myself better as a professional and am better able to communicate my unique value to prospective employers. I recently accepted an offer for a dream job after only a few months of light searching, and I believe much credit is due to the work I did with Sharanya on excavating my values, revolutionizing my resume, and improving my interview skills. I have already confidently recommended Sharanya to several friends looking for coaching! Thank you, Sharanya!
— Ladaun Jackson
Sharanya was my career coach through Coaching 4 Good. When I came to her, I knew I had not found the right fit yet in my career, so she helped me with career exploration. I took something very valuable from each of our meetings. Sharanya was truly passionate about helping me find what I love and taking the necessary steps to transition my life. I learned so much about myself through our discussions and the exercises she gave me. After gaining a deep understanding of my values, interests, skills, limiting beliefs, and personality, we were able to map out the perfect career for me. Now I am very confident about the direction I'm heading and I apply what I learned from Sharanya when I need to make difficult decisions. For anyone who feels unsatisfied, unfulfilled, or confused about their career choices, I highly recommend reaching out to Sharanya. I can't express how valuable the experience was for me.
— Sarah McClung
I worked with Sharanya Rao from Coaching4Good for 12 sessions in the winter of 2019-2020 as I was working in a career transition. Sharanya changed my life – as simple as that. She helped me rediscover my confidence, passion and competence, and truly see my life and career through a new pair lenses. The changes that I have seen after working with her are fantastic and I believe there is more to come. Sharanya knows how to listen to you, how to understand your struggles, how to get the best out of you and push you when needed. Her passion and joy are contagious and she has a way to make you think about things in ways you had never thought before. I highly recommend Sharanya Rao as a career and life coach.
— Alejandra M.
Sharanya was terrific. She pushed and guided me to come up with a life purpose statement. (Which was genuinely hard for me to do since I'm not one to commit easily.) Once I did, everything thing else started making since. Not only did I walk away knowing what I want to do career-wise, I also walked away knowing myself better. Thanks, Sharanya!
— Neysha B.
Sharanya Rao is outstanding! Sharanya helped me refine my interview skills. She increased my confidence and my preparedness for the seemingly infinite variety of questions that can be asked during an interview. With Sharanya's assistance, I was able to present myself in the most effective manner during my job interview.
— Mike M.