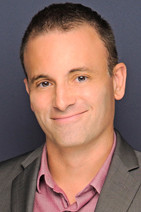 Dominick DeAngelis
Leadership, Performance and Mindset Coach
Compassionate, Powerful, Genuine, Balanced
New Jersey
Appointment Types:
Expertise:
Business Coaching
Business Soft Skills
Business Vision Strategy
Communication/EQ Skills
Confident Communication
Customized Workshops for Your Org
Business Coaching
Business Vision Strategy
Midlife Career Change/Exploration
Communication/EQ Skills
Confidence and Self-esteem
Confident Communication
Developmental & Behavioral Coaching
Goal Setting & Accountability
Influence Traits Assessment
Credentials:
Professional Certified Coach (PCC), International Coach Federation
Certified Conscious Business Coach, BetterUp
Certified Professional Co-Active Coach (CPCC), Co-Active Training Institute
Bachelor of Science in Business Administration, Marketing, Shippensburg University of Pennsylvania
20+ years corporate experience building, leading and coaching high performing teams
Former Board Member, International Coach Federation Philadelphia Chapter
Packages Offered:
Ideal Clients:
Career Changers
Executives
Individual Contributors
Mid Level Managers
Mid-Career Professionals
Senior Level Managers
Methodologies and Tools used:
Strengths-based Coaching
Career and Leadership Assessments
Mindfulness, Stress Reduction, Health and Wellness, Balance
Cognitive Agility and Mindset
Emotional Intelligence
Positive Psychology
Time Mastery
Goal Setting and Accountability
Values and Purpose Mining and Integration
Individual and Team Leadership
Effective Communications
Inner Critic Work
Workshops:
Raising The Bar Workshop
Topic areas:
Personal and team leadership
Time management/mastery/prioritization
Energy management/focus
Growth mindset
Managing difficult situations/colleagues/effective communication
Individual and team values and vision

Dominick's Story
How I Help My Clients
I get so inspired when my clients transform their busy lives, reinventing themselves in a whole new way, prioritizing what is truly important, doing less with greater impact, or by living with greater intention and purpose!
My clients will tell you that I help them…
• Achieve SUSTAINABLE high performance.
• Go ALL IN at work and at home, managing the intensity of life with competing priorities.
• Gain true INSIDE-OUT CONFIDENCE not determined by external successes.
• JOYFULLY take full ownership of all aspects of their life.
• Remove obstacles to have greater SUCCESS.
• Bring their full AUTHENTIC selves, their BEST SELVES to work.
• Get CLARITY on what they really want in life, and have the courage to chase it!
• Learn how to pause, reflect and CELEBRATE life.
• Be HEALTHY, mentally, emotionally and physically.
Case in point, in less than 6 months one client of mine achieved the following…
• Quit her unfulfilling corporate job
• Started a new amazing business for herself using her unique strengths
• Moved her family to the beach where she always wanted to live
• Got healthy and lost a ton of weight
• Became an "empowered, inspired all around happier and better person!"
• Fell in love with her new life!
About Me
I love connecting with people and helping them develop so they can achieve the success they truly want in life. This is what energizes and fulfills me.
After 20 years leading and developing individuals and teams in corporate market research, I found professional coaching and fell in love with it. I hold a Certified Professional Co-Active Coach (CPCC) accreditation from the prestigious Co-Active Training Institute, the world's leading coach training organization. I hold a Professional Certified Coach certification (PCC) from the International Coach Federation and am a former Board Member of the ICF Philadelphia Chapter. I am also a Certified Conscious Business Coach (CBC).
Personally I love… aliveness, energy and passion itself, authenticity, laughter, being with my beautiful family and friends, learning and teaching what I learn, being in perfect harmony with nature, being physically active, meditating, adventure and travel, cooking and eating delicious food, and taking naps.
I'm strong and also sensitive, fun and serious, organized and messy. I truly do wear my heart on my sleeve. I love meeting new people and am energized by diversity in all its beautiful forms. I bring my whole self to each coaching session, all in service of my clients success.
I'm curious…what do you see as possible for YOU? What transformation do you truly desire? Book an initial consultation and let's find out together!
What clients are saying about Dominick…
Dominick is a unique combination of open-mindedness and authority. He owns his brilliance and knows exactly who he is. He takes such a strong stand for his clients and colleagues that just being in his presence is at once uplifting and comforting. He has deep presence that not many coaches have (I've been coaching and training coaches for 13 years). I have seen his coaching in action and this man knows the art of transformation and is totally committed to this work. You want this man as your coach!
— Megan Jo W.
As his last name says Dominick is a true angel and a miracle worker. With his support and insightful guidance I was able to take the leap, quit my unfulfilling job, move to the beach, lose a ton of weight, start my new business and become an empowered, inspired and all around happier and better person. Dominick has the ability to balance pushing your limits with insight, guidance and kindness and guidance based on your core values to find the best version of yourself always keeping it honest. I'm so grateful to have him on my side as my guru as I walk this new path of greatness, I didn't know I was able to feel this good about my life and myself. Thank you Dom, you truly are a blessing.
— Irene F.
I was recently promoted to my current executive position with my company. Dom played a significant role in my ability to stay focused and resolute with the process – giving me real feedback as well as sharing relevant personal experiences that resonated with me. He is a life changer.
— Peter C.
Dominick is a powerhouse. His coaching style is the perfect balance between peaceful and powerful. He has a very strong heart but when he coaches, it's like he becomes this gentle, compassionate person. Whenever Dom coached me, he always followed my energy and was right there with me experiencing the highs and lows of life. His exuberance, strength, and his passion for helping individuals love their life, is what makes Dom an extraordinary coach.
— Lauren H.
Dom has encouraged me to realize my full potential and truly recognize my ability to achieve anything I want. I have a much deeper understanding of who I am, and every session with Dom seems to uncover a new insight that makes me better. He is understanding, compassionate, incredibly intelligent, but with his grounded approach, he still keeps it real.
— Lauren C.