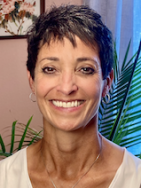 Angela Lopez
Leadership, Student Specialist and Life Growth Coach
Intuitive, Holistic, Compassionate, Transformative
Vancouver, WA
Appointment Types:
Expertise:
Business Soft Skills
Communication/EQ Skills
Influencing Skills
Intercultural Understanding
Leadership and Team Development
Mindfulness
Brand Development
Midlife Career Change/Exploration
Communication/EQ Skills
Confidence and Self-esteem
Confident Communication
Developmental & Behavioral Coaching
End-of-Life Coaching
Goal Setting & Accountability
Credentials:
Associate Certified Coach (ACC), International Coaching Federation
Certified Professional Co-Active Coach (CPCC), Co-Active Training Institute
Member of Inaugural Coaching for Everyone Fellowship (CTI)
Master of Education, Regis University, Educational Leadership
Master of Education, Curriculum Studies, University of Hawaii Manoa
Packages Offered:
Ideal Clients:
Career Changers
Community Change Makers
Executives
Individual Contributors
Mid Level Managers
Mid-Career Professionals
Methodologies and Tools used:
Co-Active Coaching strategies to achieve clarity of values and purpose, build emotional intelligence, find direction in career and establish the unique authentic expression of your leadership style
Mindfulness practices and techniques to help increase engagement with self care and self-awareness, build emotional intelligence, and assist with anxiety
Angela's Story
Angela Lopez is an intuitive leadership coach, life growth coach and facilitator who works with individuals and organizations seeking transformation. Angela has been facilitating learning for decades in education, sports and business environments. Angela loves supporting emerging and new leaders, especially BIPOC, women and LGTBQIA+ professionals who are stepping into a leadership role and want to intentionally design who they will be as a leader and how they will lead. Angela also loves serving experienced leaders who want to improve their leadership style, broaden their leadership influence and deepen their impact as leaders. Angela also leverages the time she's spent with young adults as a student specialist coach, helping students of all ages find direction as they prepare for their next transition.
Angela approaches coaching as a partnership and her style is focused on meeting each client where they are, then uncovering what they need to bring about greater satisfaction in those areas where they are yearning for more. One of Angela's values is well-being so she'll be supporting you as she invites and/or challenges you to step up your self-care. Partnering with Angela will result in: improved emotional intelligence and self-awareness, health behaviors that are aligned with your goals, improvements in your ability to manage stress, increased presence as a leader, the ability to better manage work/life or school/life balance and greater satisfaction in all areas of life.
What clients are saying about Angela…
"Angela is approachable and kind and she draws on a variety of techniques. Sometimes I'm surprised or challenged by her suggestions, but it's always constructive. This is my first experience of coaching, and I came into the process without a lot of expectations. I didn't know how beneficial holding space and time to be accountable to myself would be, and Angela is there to nudge me a bit closer to where I know, but sometimes don't recognize or acknowledge, I need to be. Angela asks really insightful and essential questions and challenges me to do some outside-of-the-box (at least for me) things in our sessions so that I can do a better job of listening to myself."
— A. Formo
"Angela is a coach that brings great presence, connection and a fierceness to support others to align and take new kinds of action and commitment that wasn't possible before the coaching."
— Tivo R-C
"Angela listened well, she paraphrased back so I could hear myself from me. Her questions made me stop and think. She gave permission without stating it explicitly to explore my own needs. The follow-up questions she asked made me think deeply about what I needed."
— K. Willett
"I like that through coaching I've been able to break my mentality that I just need to take whatever job I can just so I can get out of here. Coaching has made me stop and think, 'is this really going to bring me peace and happiness and honor all of the values I've identified since we started working together?' It's really making me stop and think before I jump because once I jump I get so excited, I would jump 30 steps ahead and that was not healthy. I like that coaching has helped me to slow down and really take the job apart and be clear if it's going to fit all of the boxes that I want to be checked. Using my values to ensure that the job will be fulfilling in the long run. This process has opened me up to waiting a minute and actually taking a look at opportunities through the things I require to be successful – my values. People around me at work and in my personal life are noticing that something has changed, too. In my head and in my heart."
— G. Grindstaff