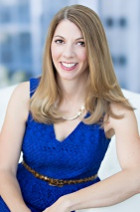 Amy Wolfgang
Certified Career and Leadership Coach
Dynamic. Inspiring. Collaborative. Supportive.
Austin, TX
Appointment Types:
In Person
Phone
Online via Zoom
Packages Offered:
No Packages Found
Amy's Story
In 2001, Amy Wolfgang had a good job in the corporate world. She liked her co-workers, did a good job and earned a decent salary. Unfortunately, she wasn't fulfilled and inspired by her job and that made her unhappy. That's when Amy decided to find a career that made her happy & fulfilled.
AMY'S CAREER EXPLORATION
Amy began working with a career coach. She took a few career tests and researched a number of career paths. Thus, Amy was able to discover the aspects of a job that would make her happy. One of those aspects was helping other people directly.

Amy realized that she enjoyed training and resource development. She enjoyed helping others grow at the company and witnessing the positive impact she had on her co-workers. A short while later, Amy pursued career coaching since she could help others and utilize her years of experience in the corporate world.

AMY'S QUALIFICATIONS

Amy left her comfortable, corporate job to obtain her Master's Degree in Educational Psychology from The University of Texas at Austin and Certification from the National Society of Career Management. After receiving her degree, Amy served as a career adviser and lecturer at one of the top business schools in the country, McCombs School of Business at The University of Texas. Amy is now CEO of her own career coaching and has the education, credentials and experience to make her an outstanding certified career management coach and professional career coach.

What clients are saying about Amy…
Getting Stuck happens. In life in general, as well as in your professional career. I had never before searched for a career coach, but I reached a point in my life where I needed one. Initially I was a bit apprehensive, because I felt silly thinking that I had no reason to feel that way and that I could eventually figure it out on my own. Amy has the ability to understand you as a person, and remind you of who you really are again. Having that outside opinion really helped remind me of myself, and rebuild my confidence. I had 4 sessions with Amy. All of which were organized, and client focused. One included resume tips/advice. After those sessions made a job transition 2.5 months after that, which is something different, and in a direction I wanted to go. It may not be perfect, but it is the change I needed in my life at the moment. Amy is caring, passionate about what she does and extremely professional. She will offer you a perspective you never even thought about, and open your mind to other possibilities, and give insight to your personality + career and give you ideas that with some effort can turn into solutions. I am grateful I came across Amy.
— P.B.
After 8 years of working in retail management I found myself facing a drastic career and life change. I was fortunate enough to have found Amy who from the moment I walked in her door helped me relax and focus on the path in front of me. My uncertainties and feelings of helplessness started to slowly subside as I realized, with Amy's guidance, that I was capable of much more than I had ever dreamed. I entered her office scared, desperate, and overwhelmed. I left with a new outlook and a confident bring-on-the-world attitude.
— H.E.